The world of Commercial Real Estate has been the exclusive world of a few wealthy individuals for years, and where minorities represent less than 5%. However, these days many unknown players are breaking through this glass ceiling. Tune in weekly to hear from these first-generation wealth creators and how they are building their CRE portfolios today!
Episodes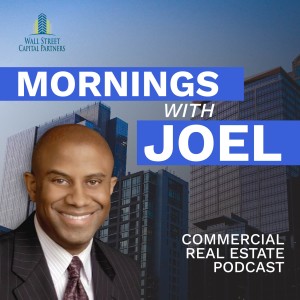 Friday Sep 30, 2022
Friday Sep 30, 2022
Equity for your Deal - Atty Dar'Shun Kendrick discusses how they have helped clients raise 
over $1B for their CRE projects nationwide.
If you enjoyed this episode, please rate us and write a review on your favorite podcasting platform.
APPLE PODCAST
https://podcasts.apple.com/us/podcast/mornings-with-joel-commercial-real-estate-podcast/id1567961644
SPOTIFY PODCAST
https://open.spotify.com/show/6xELTweUS6HWhHKtphRxE6?si=LvpekFZ6Qb2T5-g0PwclWA&nd=1
AUDIBLE PODCAST
https://www.audible.com/pd/Podcast/B08JJNFCJJ
YOUTUBE
https://www.youtube.com/channel/UCvmX7bTRFFCalYQlWSjppsg
Be sure to follow us for the most recent updates:
LINKEDIN
https://www.linkedin.com/company/mornings-with-joel-commercial-real-estate-podcast/ 
TWITTER
https://twitter.com/WallStCapital
INSTAGRAM
https://www.instagram.com/wallstreetcapitalpartners/
Comments from the live chat:
10:19:46 From MiPhone : Good morning everyone, Thanks for this wonderful conversation! Perhaps others are as surprised as I am to hear that SEC regulations are implicated with low amounts of Capitol raised from family. I have not done that, but I thought that I heard somewhere that one can raise funds from family (and possibly friends) up to a certain threshold amount without SEC law and regulations applying. Is that true? And if so, what are those basic limitations that one needs to be aware of to not implicate federal SEC laws/regulations. Thanks. -Patricia
10:24:24 From Arletha Williams : Wonderful presentation Dar'shun!!! Enlightening stuff!
10:29:25 From MiPhone : And a quick followup to my above question is what is the technical/legal difference between an loan and an investment (i.e receiving a loan from family verses family making an investment) when in both cases, interest may be paid. Thanks again!
10:30:57 From Uriyah Robinson : Good morning everyone….and happy belated birthday Dar'shun!   Two questions:   From a syndication fund raising approach for a real estate deal what are your thoughts between forming a S-corp vs a LLC?   And second question:  could your share some insights on how to discover different financial/capital resources available for development efforts aimed to drive economic impact and job creation?
10:43:05 From Uriyah Robinson : Series 7
10:46:15 From Uriyah Robinson : Could you speak high level to some of the requirements to qualify for a exemption from registration in Georgia?
10:52:46 From Njeri Warfield : Awesome presentation Dar'Shun! Yes! More Millionaires!!
10:53:03 From Uriyah Robinson : Amazing insight !!!! Thanks Dar'shun!  Thanks Joel
10:55:13 From Quinn Green : Great to hear the shout out to REAP & community reference!